May Peace be in Oldham
A big 'thank you' to the Oldham Pledge to Peace Forum who have now taken on the initiative to plant more Peace Poles in Oldham, specifically in Peace Gardens, and to arrange for the upkeep of the gardens also.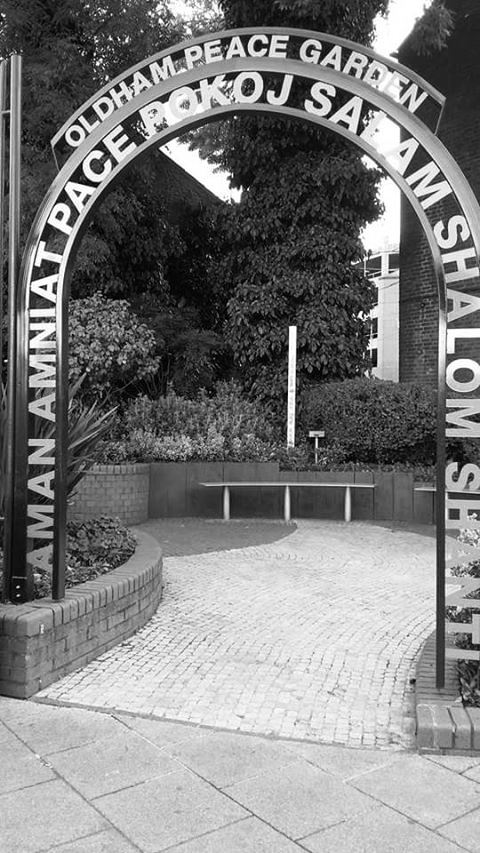 Since 2012, we planted a Peace Pole in the Oldham Peace Garden (photo by Richard Outram)
From 2007 – 2012 we worked very closely with schools in Oldham. Teachers from 10 schools were trained to run the 'May Peace Prevail on Earth' School Programme (see under 'Education). Each of these schools held a World Peace Flag Ceremony – and also now have a Peace Pole in their school grounds.
We held many Flag Ceremonies with other schools in Oldham also and joint Flag Ceremonies with up to 7 schools at one time. Culminating on the International Day of Peace 2012 (21st September) in a large event with 1000 teachers and children from 24 schools!!! This event was based on the structure of the 'May Peace Prevail on Earth' school programme. We worked closely with Oldham Council, the Inter-Faith Forum, Oldham College and Head teachers from around Oldham to ensure the success of the event. It was very memorable!
There are now over 50 Peace Poles in and around Oldham in schools, Peace Gardens and community areas.
PEACE POLE PROJECT
'MAY PEACE PREVAIL ON EARTH'
IS AN UNIVERSAL CALL FOR THE PEACE AND HAPPINESS OF ALL HUMANITY AND ALL LIFE ON EARTH, AS WELL AS A PATH TO INNER PEACE AND SERENITY.
OUR PEACE POLES ARE HANDMADE BY OUR SMALL TEAM AT ALLANTON PEACE SANCTUARY IN SCOTLAND AND SHIPPED AROUND THE WORLD.